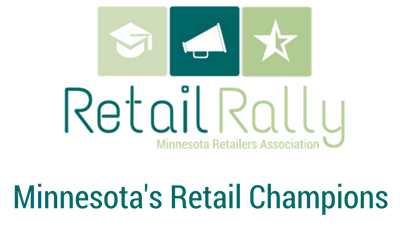 The Minnesota Retailers Association (MnRA) is pleased to recognize ten organizations leading the way in attracting consumers with the announcement of the 2018 Minnesota's Retail Champions.

Winners will accept their awards in person during the Retail Rally event on Tuesday, October 9, 2018, at the Doubletree Hotel in St. Louis Park (1500 Park Place Boulevard, St. Louis Park, MN 55416) beginning at 2:30 p.m. The event features a keynote speech by Amanda Brinkman, "Retail Lessons Learned While Revitalizing Main Streets Across America". Brinkman is chief creator and host of the "Small Business Revolution - Main Street"—a critically acclaimed HULU series celebrating small businesses and revitalizing main streets across America, and chief brand and communications officer of Deluxe.
Watch the winner's video here:
"We are proud to recognize 10 innovative retailers, communities and partners that rose to the top following a robust process to identify Minnesota's Retail Champions," says Bruce Nustad, Minnesota Retailers Association president. "The retail industry has a deep impact on Minnesota communities, and these award recipients are truly representative of what's great about retail across the state, how the industry is changing, and what it takes to attract customers today."
The following is a complete list of the 2018 Minnesota's Retail Champion Award recipients:
Best Place to Work
Kwik Trip, locations throughout Minnesota
Customer Experience
Red Balloon Bookshop, St. Paul, MN
Advocate of the Year
Mike Drury, Drury's Furniture, Fountain, MN
Lifetime Achievement
Gordy Engel, The Foursome, Plymouth, MN
Retail Community of the Year
Alexandria, MN
Retail Employee of the Year
Paula Christensen, Grand Jeté, St. Paul, MN
Retail Innovation
Askov Finlayson, Minneapolis, MN
Retailer of the Year
Target, locations throughout Minnesota
Social Responsibility
Arc's Value Village Thrift Store & Donation Center, Bloomington, New Hope, Richfield, St. Paul, MN
Vendor Partner of the Year
Rustica Bakery, Minneapolis, MN
MnRA started the award process by putting out a statewide call for nominations in the 10 categories. A panel of peer judges reviewed nearly seven dozen nominations and selected the top nominee in each category. Tickets to the event are $39 online at www.retailrally.com.
To learn more about Deluxe's Small Business Revolution TV Show visit https://www.deluxe.com/sbrc/small-business-revolution.