Retail in Minnesota is better together!

Over the years MnRA has grown to be the go-to resource for bringing retail together when our members face issues or are looking for solutions. As a collection of innovative retailers and their key business partners, we are dedicated to members' success and work every day to ensure Minnesota is a great place to be a retailer, a team member and a consumer.
During the height of the pandemic retailers and their key business partners received mission-critical updates from the Minnesota Retailers Association (MnRA) nearly every day. This allowed members to focus on getting things right, versus spending time seeking out information. And we took feedback from the industry directly back to those making decisions that impacted consumers, workers and retailers during the challenging time.
Our industry-crafted plan to safely serve customers during COVID-19 is why we were able to stand beside Governor Walz to announce curbside allowances and retailers were able to re-open safely early in the pandemic. The industry's strong lines of communication with the administration and elected officials made a difference.
But our work as an industry hasn't shined just during the pandemic. MnRA was the lead advocate for sales tax fairness during our "A Minnesota Sale Is A Minnesota Sale" campaign in 2013 and 2017, when we worked with the Legislature and partners to make sure brick-and-mortar and online sales are treated the same way regardless of how they occur (e-fairness!).
Throughout our 70 years we have worked on countless issues positively impacting retailers and Minnesota's economy, but only because retail leaders work together and step up to power MnRA.
Retail in Minnesota truly is better together!


---
We bring stakeholders together to create solutions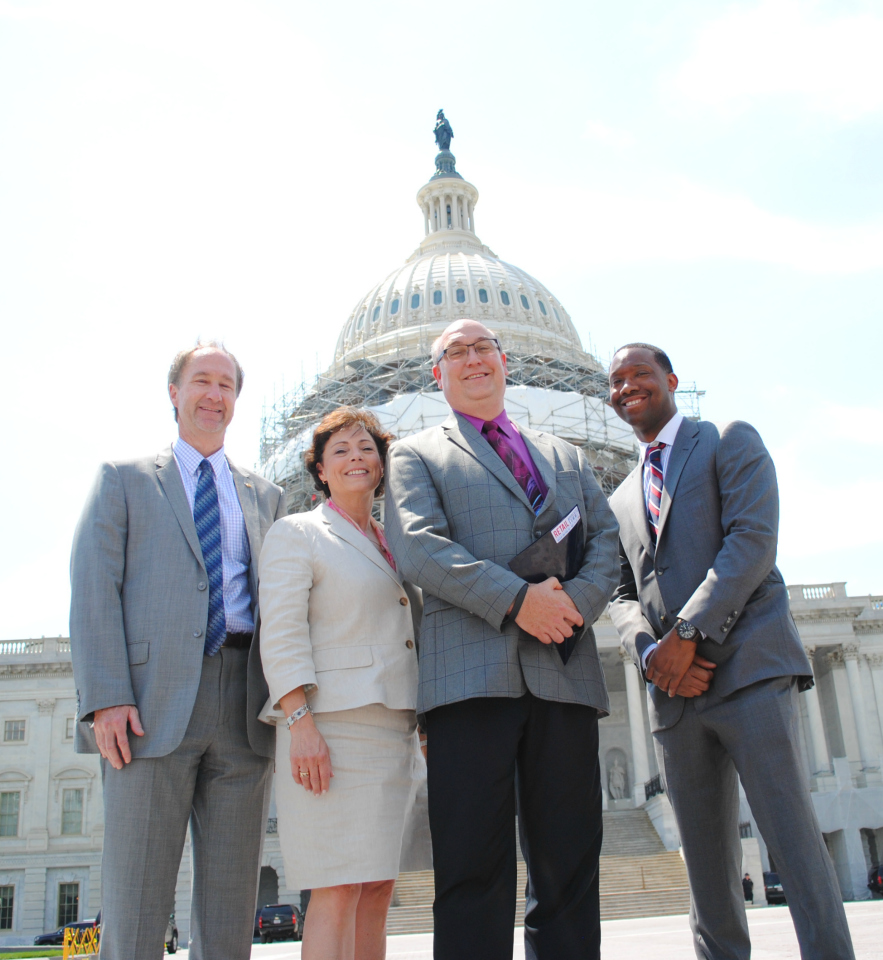 Advocacy & Legislative Representation
MnRA's dedicated in-house government relations professionals and contract policy team work directly with members and the industry to achieve results at the State Capitol, and more and more often before local officials and the federal government. Members look to MnRA as their partner in keeping up on legislative actions and proactively advocating for industry interests. MnRA gives members eyes and ears on the ground. MnRA's policies are developed based on member feedback and what is best for consumers, workers, retailers and communities. Take a moment to take our annual legislative survey now and provide your feedback on issues impacting Minnesota!
MnRA hosts an Annual Retail Day At The Capitol, a yearly legislative wrap up, and a Retail+Policy dinner providing members the opportunity to personally connect with their legislators and discuss how proposed regulations or law changes impact their business.
Pictured above is a group of retail leaders we took to Washington D.C. to discuss marketplace fairness issues with Minnesota's federal delegation.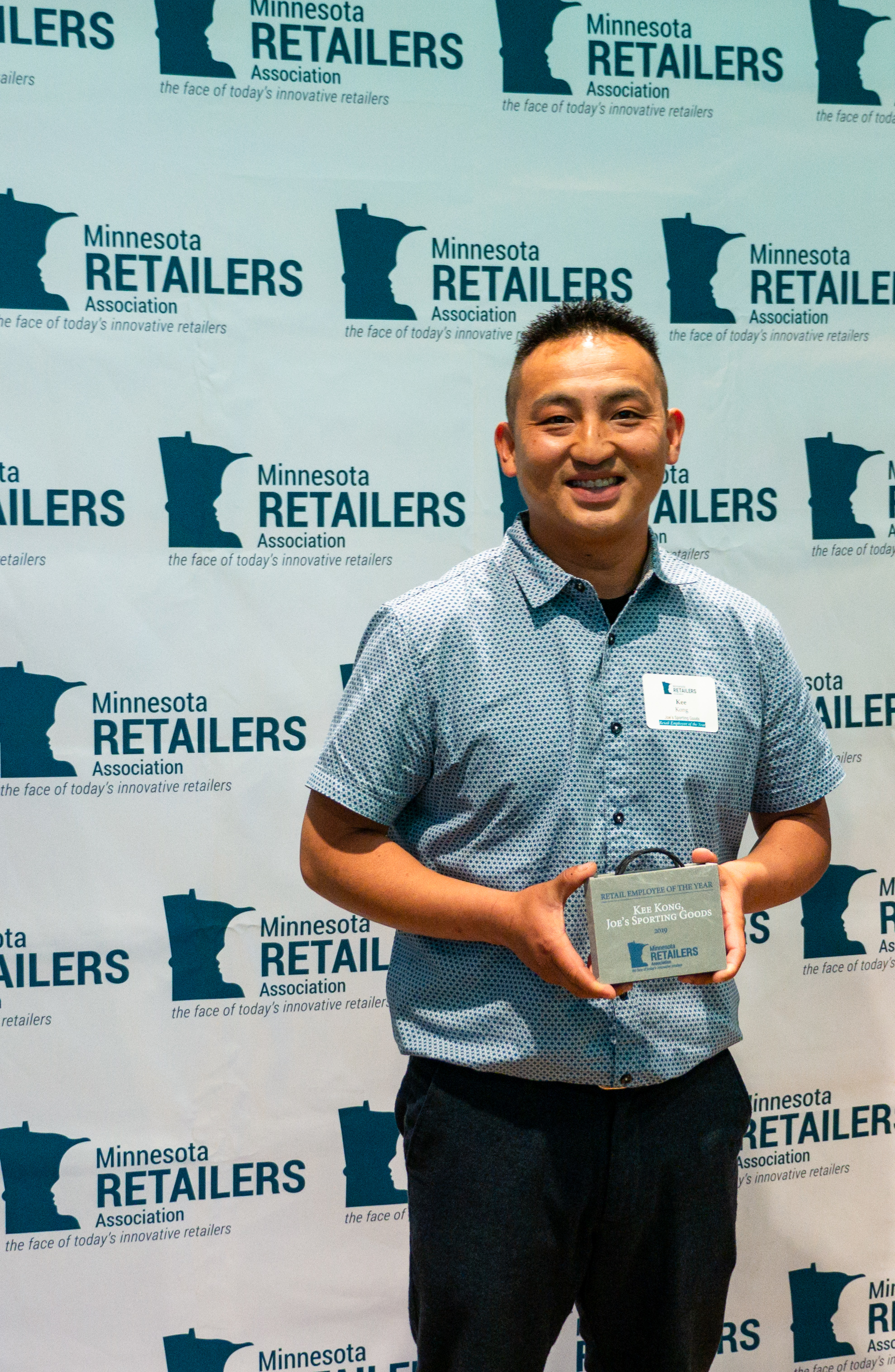 Connections & Events
We bring retailers, their key business partners and officials who make decisions that impact the industry together! MnRA offers a slate of signature events and educational gatherings for the sole purpose of makings our retail industry stronger, better and faster. From individual connections to group networking we work with Minnesota's innovators to create better, more connected stores and communities. Minnesota's retail ecosystem depends on us!

Pictured above is our Retail Employee of the Year, Kee Kong with Joe's Sporting Goods as he accepts his award at our popular October Retail Rally event.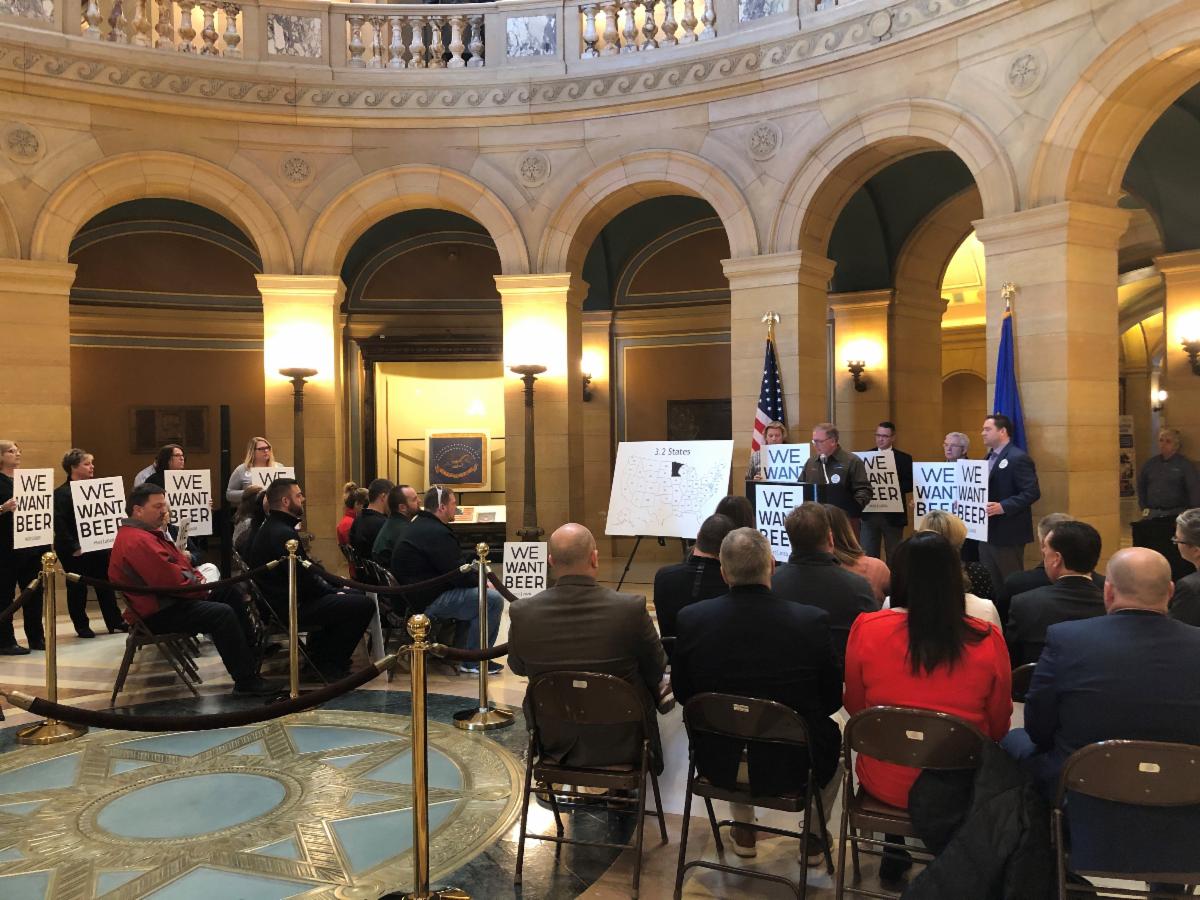 Industry Voice & Strength
When the media or elected official is looking to discuss what's going on in retail, MnRA is the go-to organization. But we don't stop there. We keep members informed of industry and legisltive news each week and convene special meetings to discuss the day's most important issues. From trends to success stories and industry awards, MnRA partners with members to tell the story of retail every day. Your voice and your story are an important part of the fabric in Minnesota!

Pictured above is a press conference we hosted with partners at the Minnesota Capitol discussing consumer choice and product availability.
Answers
Some of the most important work we do as an organization can't be scheduled or predicted. Each day members reach out with question, and we provide answers. Just this week we were asked about masking guidance as COVID-19 delta variant cases increase, along with dozens of other pandemic-related questions. Often times we are asked to point retailers to resources relating to consumer trends or buying habits. As a key membership benefit, we love the variety of questions, so ask away!

Pictured above is our staff president Bruce Nustad answering questions on MnRA's Safe Re-Opening Plan with Minnesota Governor Tim Walz at the State Emergency Operations Center during the height of the pandemic.
Business Services
MnRA is partnered with leading service providers to leverage the collective strength of the industry and give retailers access to top-notch services. From payroll to shipping, there are over a dozen providers in our "Thumbs Up Partner Program" designed to save members money while making sure they receive incredible customer service. The average member using our programs pays for the membership five times over through savings!
---
Our strength rests with innovation & the diversity of our membership
One of MnRA's strengths is the diversity of our membership. We're not solely mainstreet or large businesses. And all of our members are innovators. About a third of our 1,200 store fronts come from each of these sectors:


Mainstreet Retailers
From single store to multiples, MnRA's small business retail members use us to:
Stay up-to-date on new laws impacting retailers and consumers.
Learn about best practices.
Network with peers.
Connect with the suppliers offering special small business services.
Regional Retailers
With a presence in the midwest or across the state, MnRA's regional retail members look to us for:
State and local legislative monitoring and engagement.
Industry PR efforts.
Connections with peers.
Efficient ways to connect with regulators and elected officials.
National Retailers
Operating across the country, our national retailers count on us for:
Timely updates on local and state issues impacting consumers and retailers.
Opportunities to discuss their business model with regulators and elected officials.
Leadership opportunities.
Industry representation before media outlets.
---
Is membership right for you and your organization?
Check the boxes below that apply to you and press submit to help determine if a relationship with the Minnesota Retailers Association is a good fit for your or your organization.
Few people are able to check all the boxes--that's okay!

---
Schedule a time to discuss membership with our dedicated staff
A quick conversation is one of the best ways to determine if membership makes sense for you. Select a date and time below and we'll give you call as scheduled!


---
Membership is affordable
Most retailers and key business partners invest between $100 and $500 a year to support the industry and its professional association. This investment allows access to all of MnRA's member benefits and supports the association's efforts to promote, preserve and enhance an essential retail industry in Minnesota.
Click here to see our investment schedule. Or even better, call us or schedule a time to discuss your customized membership experience!
MnRA is pleased to partner with many chambers of commerce and associations across the state, and we always recommend retailers join their local chamber of commerce and industry-specific associations! Find your local chamber of commerce here.


---
Retail in Minnesota is better together! Join with us now
Ready to connect and lead better together through membership in MnRA? Click here to join now!