Award Recognizes Alexandria's Unique Partnerships That Support Retail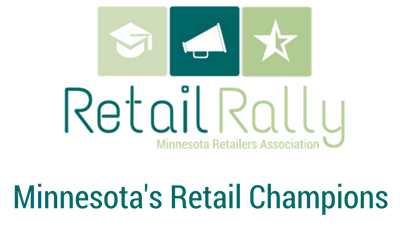 After reviewing dozens of applications from across the state, the Minnesota Retailers Association is pleased to announce the community of Alexandria, MN as the Retail Community of the Year in the 2018 Minnesota's Retail Champions program.
"Alexandria was selected based on the unique partnerships that exist in the community that not only recognize the importance of a strong retail sector as a component of a vibrant area, but for the effort, resources and most importantly the cooperation among those partners," says Bruce Nustad, Minnesota Retailers Association president. "The Alexandria Lakes Area Chamber of Commerce, the Downtown Merchants Association, the City, Explore Alexandria Tourism, the Alexandria Area Economic Development Commission, community and civic organizations, retailers, and others all work in concert to make the area a strong destination for shoppers. What is truly unique about Alexandria is the retail experiences that are created as the community works together."
"Alexandria has a unique energy going on right now," says Alexandria Lakes Area Chamber of Commerce Executive Director Tara Bitzan. "Some of that comes from the collaborations, partnerships and support shared by the various entities, but much of it also comes from the strong business-to-business support going on throughout the community. Instead of competing against each other, businesses are teaming up in many ways and working together for the good of the entire community. The impact of that has definitely been a positive thing for our community."
"The Downtown Merchants Association is honored to be recognized for the work that is being done to help promote not only the Alexandria Downtown area but also the entire City of Alexandria," says Pam Botker, president of the Alexandria Downtown Merchants Association. "We work closely with several area organizations to make sure that everyone is on the same page and working towards the same goal. The City, Chamber, and Explore Alexandria have a great working relationship with the Downtown Merchants and we often work together to promote events which bring in shoppers from a wide geographical area."
Representatives from Alexandria will accept the award in person during the Retail Rally event on Tuesday, October 9, 2018, at the Doubletree Hotel in St. Louis Park beginning at 2:30 p.m. The event features a keynote speech by Amanda Brinkman, "Retail Lessons Learned While Revitalizing Main Streets Across America". Brinkman is chief creator and host of the "Small Business Revolution - Main Street"—a critically acclaimed HULU series celebrating small businesses and revitalizing main streets across America, and chief brand and communications officer of Deluxe.
Alexandria is the sole recipient of the Minnesota's Retail Champions Retail Community of the Year award. Nine other organizations will be recognized in other categories such as Retail Innovation, Advocate of the Year, Retail Employee of the Year, Social Responsibility and Retailer of the Year.
See the awards video including Alexandria here: